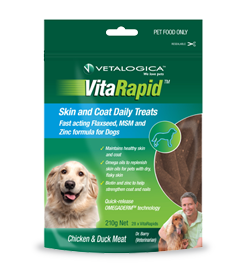 VitaRapid® Skin and Coat Daily Treats for dogs


Fast acting treat formula for dogs with Flaxseed, MSM and Zinc
SKIN AND COAT CARE FOR DOGS
Just like people, dogs also suffer from poor nutrition, food, grooming products and environmental irritants can all lead to very uncomfortable skin issues.
A quality, natural supplement is often the best way of managing healthy skin and coats in dogs.
World's First Fast-Acting daily Treats for Dogs
FEATURES AND BENEFITS
Fast Acting Treats to help maintain healthy skin and coats in dogs
Developed using Vetalogica's exclusive Omegaderm® Quick-Release blend
Soothing formula of Omega Oils, Zinc and Antioxidants to help replenish skin oils for dogs with dry, flaky skin and helps strengthen coat and nails
NO Corn, Wheat or Grain. NO Artificial Colours or Flavours
HOW IT WORKS
Each Skin & Coat VitaRapid® treat has been carefully researched and developed to provide quick-acting and essential vitamins and minerals for your dog. Used daily, VitaRapids promote wellbeing and optimal quality of life for your dog as well as replenish skin oils and manage shedding.
Quick-release Omegaderm® Skin & Coat formulation for dogs is scientifically formulated with natural ingredients. This proprietary blend of omega oils, vitamins, minerals, Flaxseed, Chia Seed and antioxidants in precise ratios, maintains healthy skin and coats for dogs in a convenient treat form with the added benefit of being fast acting. Vetalogica's world exclusive Omegaderm® formulation is the result of numerous years of research and development by Scientists, Chemists, Veterinarians and Flavour Experts.
For ideal results, VitaRapid Skin & Coat Treats for dogs (fast acting) should be combined with Canine Omegaderm® supplement (Long acting tablet).
DIRECTIONS FOR USE
To maintain healthy skin and coat for your dog, administer the daily dose of Skin & Coat VitaRapid® Treats as directed:
DOG WEIGHT
| | |
| --- | --- |
| Up to 10kg: | 1 VitaRapid® Daily |
| 10-25kg: | 2 VitaRapid® Daily |
| 25–45kg: | 3 VitaRapid® Daily |
| 45kg and over: | 4 VitaRapid® Daily |
INGREDIENTS
Real Australian Meat (Chicken Meal and Duck Meal), Dextrose, Potato Starch, Tapioca Starch, Poultry Tallow, Salt, Peas, Glycerol, Phosphoric Acid, Chia Seed, Flaxseed, MSM, Chickpea Flour, Pumpkin, Tomato, Methionine, Potassium Sorbate, Omega 3 & 6, Potassium Chloride, Soy Lecithin, Choline Chloride, Vitamins (Retinol (Vit A), Thiamine (Vit B1), Riboflavin (Vit B2), Niacin (Vit B3), Calcium Pantothenate (Vit B5), Pyridoxine (Vit B6), Folic Acid (Vit B9), Cobalamin (Vit B12), Vitamin C, Vitamin D, Vitamin E, Vitamin K), Minerals (Calcium, Copper, Iron, Manganese, Magnesium, Selenium, Zinc), Beet Pulp, Dicalcium Phosphate, Rosemary, Natural Antioxidants.
TYPICAL ANALYSIS: Crude Protein: 38%, Crude Fat: 18%, Crude Fibre: 3%, Salt (NaCl): 0.7%
---
We Also Recommend