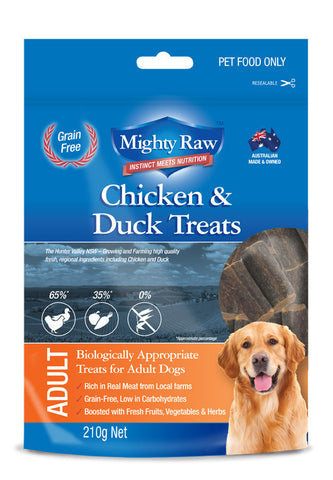 Adult Dog - Chicken & Duck Treats 210g
Grain-Free & biologically appropriate Treats specifically for Adult Dogs using quality ingredients sourced from local 'Aussie' farms.
65%* Chicken and Duck meat, 35%* Vegetables, Fruits and Herbs, 0% Grains.
NO Corn, Wheat or Grain - NO Artificial Colours or Flavours
MIGHTY RAW™ MAKES FOR A MIGHTY DOG™
Meat and Protein Content: Dogs are carnivores and need a diet rich in meat and protein. Mighty Raw ™ Adult Dog is 65%* Australian Meat and Animal Ingredients to duplicate the natural diet.
Carbohydrate limited and Low-Glycemic: We replace cheap, High-Glycemic carbohydrates like corn and rice, with Low-Glycemic fresh picked fruits and vegetables from NSW farms. Absolutely grain-free.
Vitamins, Minerals and Herbs: Essential to maintain healthy function, boost metabolism and cleanse the body of free radicals and other toxins. Quality ingredients including Kelp, Green Tea and Rosemary are synergistically included for optimal effect.
Adult Dog Treat Ingredients: 
Real Australian Meat (Poultry Meal and Duck Meal), Vegetables and Vegetable Meals (Including Potato, Field Peas, Carrots, Pumpkin), Potato and Tapioca Starch, Oils (Poultry and Vegetable), Beet Pulp, Natural Flavours, Egg Powder, Oilseeds (Canola and Linseed), Humectants, Potassium Sorbate, Salt, Potassium Chloride, Vitamins (Retinol (Vit A), Thiamine (Vit B1), Riboflavin (Vit B2), Niacin (Vit B3), Calcium Pantothenate (Vit B5), Pyridoxine (Vit B6), Folic Acid (Vit B9), Cobalamin (Vit B12), Vitamin D, Vitamin E), Minerals (Calcium, Phosphorus, Iron, Zinc, Copper, Manganese, Iodine, Selenium), Kelp Meal, Garlic Powder, Yucca Schidigera Extract, Dried Chicory Root, Choline Chloride, Soy Lecithin Powder, Tomato Powder, Green Tea, Rosemary, Mint.
Typical Analysis: Crude Protein: 38%, Crude Fat: 18%, Crude Fibre: 3%, Salt (NaCl): 0.7%
*Approximate percentage meat may vary 60-65% and vegetables, fruits and herbs 40-35%
#ALMIGHTY RAW BRAND AVAILABLE FOR USA CUSTOMERS
---
We Also Recommend