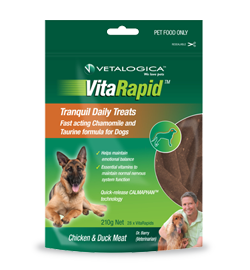 VitaRapid® Tranquil Daily Treats for dogs

Fast acting treat formula for dogs with Chamomile and Taurine
EMOTIONAL BALANCE IN DOGS
Just as with people, many cat are subject to uncomfortable situations. Fireworks, thunderstorms, being left alone, car trips, vet visits or even seeing strangers can be confronting for dogs.
World's First Fast-Acting daily Treats for Dogs
FEATURES AND BENEFITS
Unique, natural 'Non-Drowsy' formulation
Fast Acting Treats to help maintain emotional balance in dogs
Developed using Vetalogica's exclusive Calmaphan® Quick-Release blend
Soothing formula of Chamomile and Taurine to maintain normal nervous system function
NO Corn, Wheat or Grain. NO Artificial Colours or Flavours
HOW IT WORKS
Each Tranquil VitaRapid® treat has been carefully researched and developed to provide quick-acting and essential vitamins and minerals for your dog. Used daily, VitaRapids promote wellbeing and optimal quality of life and maintain emotional balance in dogs.
Quick-release Calmaphan® Tranquil formulation for dogs is scientifically blended with natural ingredients. This proprietary blend of Chamomile, Taurine, vitamins and omega oils in a synergistic blend, maintains normal nervous function for dogs in a convenient treat form with the added benefit of being fast acting. Vetalogica's world exclusive Calmaphan® formulation is the result of numerous years of research and development by Scientists, Chemists, Veterinarians and Flavour Experts.
For ideal results, VitaRapid® Tranquil Treats for dogs (fast acting) should be combined with Canine Tranquil Formula supplement (Long acting tablet).
DIRECTIONS FOR USE
To maintain emotional balance for your dog, administer the daily dose of Tranquil VitaRapid® Treats as directed:
DOG WEIGHT
| | |
| --- | --- |
| Up to 10kg: | 1 VitaRapid® Daily |
| 10-25kg: | 2 VitaRapid® Daily |
| 25–45kg: | 3 VitaRapid® Daily |
| 45kg and over: | 4 VitaRapid® Daily |
Suitable for dogs of all ages.
INGREDIENTS
Real Australian Meat (Chicken Meal and Duck Meal), Dextrose, Potato Starch, Tapioca Starch, Poultry Tallow, Salt, Peas, Chamomile, Taurine, Glycerol, Phosphoric Acid, Potassium Sorbate, Chia Seed, Flaxseed, Chickpea Flour, Pumpkin, Tomato, Potassium Chloride, Soy Lecithin, Choline Chloride, Vitamins (Retinol (Vit A), Thiamine (Vit B1), Riboflavin (Vit B2), Niacin (Vit B3), Calcium Pantothenate (Vit B5), Pyridoxine (Vit B6), Folic Acid (Vit B9), Cobalamin (Vit B12), Vitamin C, Vitamin D, Vitamin E, Vitamin K), Minerals (Calcium, Copper, Iron, Manganese, Magnesium, Selenium, Zinc), Beet Pulp, Dicalcium Phosphate, Methionine, Rosemary, Natural Antioxidants.

TYPICAL ANALYSIS: Crude Protein: 38%, Crude Fat: 18%, Crude Fibre: 3%, Salt (NaCl): 0.7%
---
We Also Recommend