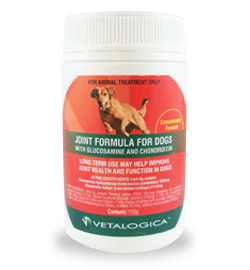 Joint Formula for Dogs with glucosamine and chondroitin
Long term use may help improve joint health and function in dogs
About 80% of dogs over 8 years old suffer from joint health issues. Numerous factors such as diet, lifestyle, age, breed and injury all contribute to joint function and strength.
FEATURES AND BENEFITS
Vetalogica's world exclusive formulation combining natural ingredients into a tasty powder for pets
Specially formulated Glucosamine and Chondroitin in correct, concentrated ratios for dogs

Manufactured under GMP standards

Free flowing powder can be readily mixed with food 
HOW IT WORKS
Perfect dosing everytime! Underdosing and overdosing with human glucosamine products is potentially very dangerous and it is important to dose exact amounts to avoid serious side effects including worsening of asthma symptoms in pets and gastrointestinal disturbances. 
Randomised double blind trials in 85 dogs over a 6 week period indicated smaller and medium breeds showed a greater reduction in joint health symptoms than large and giant breeds (57%, 39%) vs (33%, 32%). (Elliott et al 2007). It is essential that a loading dose of at least 88mg/kg of chondroitin and glucosamine combined followed by a reduction in dose after an improvement is seen (4-6 weeks) was found to be ideal in pets (Davidson, 2000).
DIRECTIONS FOR USE
Not recommended for use in acute or infectious joint conditions. For a diagnosis to determine these conditions, or in the event of adverse experience (e.g. diarrhoea) or where response is unsatisfactory, consult your veterinarian. Use with caution in pregnant or lactating animals as safe use in these groups has not been established. Use with caution in animals with bleeding, liver or kidney disorders.
Sprinkle Joint Formula for Dogs with Glucosamine and Chondroitin on pet's food or mix into food. Use the Initial Treatment for 4-6 weeks and then convert to the Maintenance Treatment dose (see tables below). Ensure the pet eats all the food.
DOSAGE
Initial Treatment (maintain for 4–6 weeks)
| | |
| --- | --- |
| 5 to 10kg: | 2.5g daily (1/2 scoop) |
| 11 to 22kg: | 5g daily (1 scoop) |
| 23 to 44kg: | 7.5g daily (1 and 1/2 scoops) |
| Over 45kg: | 10g daily (2 scoops) |
Maintenance Treatment
| | |
| --- | --- |
| 5 to 10kg: | 1.25g daily (1/4 scoop) |
| 11 to 22kg: | 2.5g daily (1/2 scoop) |
| 23 to 44kg: | 5g daily (1 scoop) |
| Over 45kg: | 7.5g daily (1 and 1/2 scoops) |
One level scoop equals 5g.
You may give half in the morning and half at night if you prefer.
INGREDIENTS
Glucosamine HCL (from Marine exoskeleton), Chondroitin Sulfate (from Bovine cartilage), MSM, Manganese (as manganese gluconate dihydrate), Calcium Ascorbate dihydrate (Vitamin C), Zinc (as amino acid chelate), Copper (as amino acid chelate), d-alpha tocopheryl acid succinate (Vitamin E), Fructose, Silica-colloidal anhydrous, Povidone, Cellulose-microcrystalline.
---
We Also Recommend