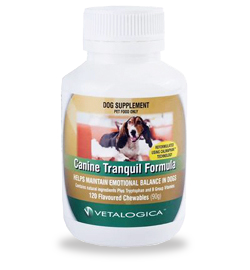 Canine Tranquil Formula
Helps Maintain Emotional Balance in Dogs
Thunderstorms, fireworks, car trips, visits to the vet, seeing visitors and being separated from their owners and loved ones are all uncomfortable situations for dogs. Every dog has an individual personality and therefore deals with these events differently.
FEATURES AND BENEFITS
Contains natural ingredients plus Tryptophan and B group vitamins to help maintain emotional balance in dogs
Vetalogica's® exclusive scientifically formulated Calmaphan® blend to maintain normal nervous function in dogs
Unique, natural 'Non-Drowsy' formulation
Delicious tasting treat for dogs with Real Australian Chicken and Duck meat
NO Corn, Wheat or Grain. NO Artificial Colours or Flavours
HOW IT WORKS
Canine Tranquil Formula contains Tryptophan and essential B group vitamins to help maintain normal emotional balance as well as normal nervous function in dogs.
For optimal results, Canine Tranquil Formula (long acting supplement) should be given in conjunction with VitaRapid Tranquil Treats for dogs (fast acting treat).
DIRECTIONS FOR USE
A delicious chicken and duck meat tablet can be given as a treat to dogs of all ages, with or without food. When giving more than one tablet, divide between morning and night. Canine Tranquil Formula treats should be given in conjunction with a balanced diet. Consult your veterinarian regularly for further information and advice.
Calmaphan® complex formulation for pets is a unique, proprietary blend of Tryptophan and B Group vitamins in precise ratios which provides maintenance of emotional balance in dogs. This superior, scientific formulation contains natural ingredients in a unique 'Non-Drowsy' chewable tablet. Vetalogica's world exclusive Calmaphan® complex formulation is the result of numerous years of research and development by Scientists, Chemists, Veterinarians and flavour experts.
DOSAGE
Up to 10kg:

3 chewables/day

1

0-25kg:

4 chewables/day

25–45kg:

5 chewables/day

45kg and over:

6 chewables/day
INGREDIENTS
Real Australian Meat (Chicken Meal and Duck Meal), Potato Starch, Peas, Tapioca Starch, Poultry Tallow, Taurine, Chamomile, Flaxseed, Chia Seed, Tomato, Pumpkin, Tryptophan, Salt, Beet Pulp, Chickpea Flour, Potassium Chloride, Potassium Sorbate, Phosphoric Acid, Choline Chloride, Vitamins (Retinol (Vit A), Thiamine (Vit B1), Riboflavin (Vit B2), Niacin (Vit B3), Calcium Pantothenate (Vit B5), Pyridoxine (Vit B6), Folic Acid (Vit B9), Cobalamin (Vit B12), Vitamin C, Vitamin D, Vitamin E, Vitamin K), Minerals (Calcium, Copper, Iron, Manganese, Magnesium, Selenium, Zinc), Soy Lecithin, Dicalcium Phosphate, Methionine, Rosemary, Natural Antioxidants.
---
We Also Recommend