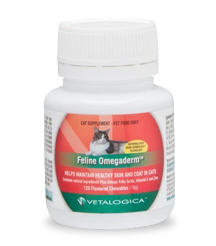 Feline Omegaderm
Helps Maintain Healthy Skin and Coats in Cats
Skin conditions prove to be extremely unpleasant and severely affect the quality of life in cats. Issues such as shedding often lead to hairball formation, which is experienced in up to 80% of cats on a monthly basis.
FEATURES AND BENEFITS
Soothing formula of Omega Oils, Zinc and Antioxidants to help replenish skin oils for cats with dry, flaky skin and manage shedding 

Developed using Vetalogica's exclusive Omegaderm® skin & shedding care blend
Delicious tasting treat for cats with Real Australian Chicken and Duck meat
NO Corn, Wheat or Grain. NO Artificial Colours or Flavours
HOW IT WORKS
Hairballs are a major issue usually caused by excessive shedding. Feline Omegaderm contains a precise ratio of Omega oils for maximum absorption and effect and since cats are unable to produce and convert Omega 3 and 6, these essential fatty acids are vital. It also includes necessary antioxidants such as Vitamin E and other essential vitamins and minerals needed for healthy skin, shiny coats and shedding management.
Omegaderm® skin & shedding care blend for pets is expertly formulated with natural ingredients. Concentrated levels of omega oils, vitamins, minerals and antioxidants are in a unique, proprietary blend which provides advanced skin care solutions for cats. Convenient, flavoured chewable tablets make dosing even easier. Vetalogica's world exclusive Omegaderm® skin & shedding care formulation is the result of careful research and development by Scientists, Chemists, Veterinarians and flavour experts.
For optimal results, Feline Omegaderm (long acting supplement) should be given in conjunction with VitaRapid Skin & Coat Treats for cats (fast acting treat).
DIRECTIONS FOR USE
A delicious chicken and duck meat tablet can be given as a treat to cats of all ages with or without food. When giving more than one tablet, divide between morning and night. Feline Omegaderm treats should be given in conjunction with a balanced diet. Consult your veterinarian regularly for further information and advice.
DOSAGE
Cats (all sizes) - 4 chewables daily
INGREDIENTS
Real Australian Meat (Chicken Meal and Duck Meal), Potato Starch, Peas, Tapioca Starch, Poultry Tallow, Flaxseed, Chia Seed, Chondroitin, Glucosamine, Tomato, Pumpkin, Salt, Beet Pulp, MSM, Potassium Chloride, Chickpea Flour, Potassium Sorbate, Phosphoric Acid, Omega 3 & 6, Choline Chloride, Vitamins (Retinol (Vit A), Thiamine (Vit B1), Riboflavin (Vit B2), Niacin (Vit B3), Calcium Pantothenate (Vit B5), Pyridoxine (Vit B6), Folic Acid (Vit B9), Cobalamin (Vit B12), Vitamin C, Vitamin D, Vitamin E, Vitamin K), Minerals (Calcium, Copper, Iron, Manganese, Magnesium, Selenium, Zinc), Tryptophan, Taurine, Soy Lecithin, Dicalcium Phosphate, Methionine, Rosemary, Natural Antioxidants.
---
We Also Recommend