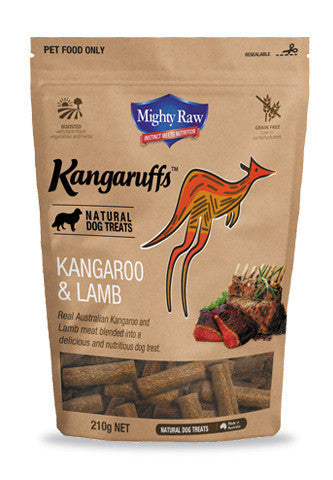 Kangaruffs, Kangaroo and Lamb Kangachews® for Dogs 210g

Grain-Free, biologically appropriate, Protein rich Kangaroo meat combined with quality ingredients sourced from local 'Aussie' farms. 
Australian Kangaroo meat is one of the finest and most nutritious meats in the world.
NO Corn, Wheat or Grain - NO Artificial Colours or Flavours
Quality Australian Meat: Kangaroos aren't farmed, they are open range animals. The result is a lean, red meat that's free from antibiotics, added growth hormones and added chemicals.
Protein: Dogs are carnivores and need a diet rich in meat and protein. Kangaroo meat is one of the best sources of protein available, helping dogs to duplicate their natural diets.
Omega-3 and CLA: Balanced nutrition is essential for dogs. Kangaroo meat is rich in Omega Oils and Conjugated Linoleic Acid (CLA), which maintains healthy skin and coats and other important healthcare functions in dogs.
Vitamins and Minerals: Essential to maintain healthy function, boost metabolism and cleanse dogs of free radicals and other toxins. Kangaroo meat is a good source of valuable B-group vitamins, including Vitamin B12, Vitamin B6, Niacin, Riboflavin, Thiamine, Iron and Zinc.  
Quality ingredients sourced from local producers with 'Aussie' spirit
Australia has some of the finest raw ingredients in the world! Kangaruffs™ sources its core ingredients of real meats, fruits and vegetables from local 'Aussie' producers and regional areas such as the fertile lands of The Hunter Valley in New South Wales.
By duplicating the diet that dogs would hunt for in the wild and delivering those ingredients in the optimum proportions, makes Kangaruffs™ one of the most highly nutritional and natural treat choices. Kangaruffs™ treats are slow-cooked using the latest technology to lock-in all the key nutrients needed for an optimal life in dogs. 
Kangaruffs - Kangaroo and Lamb Ingredients:
Real Australian Meat (Kangaroo Meal and Lamb Meal), Potato Starch, Dextrose, Chickpea Flour, Tapioca Starch, Poultry Tallow, Pumpkin, Peas, Salt, Chia Seed, Kale, Tomato, Blueberries, Flaxseed, Potassium Sorbate, Glycerol, Phosphoric Acid, Potassium Chloride, Soy Lecithin, Choline Chloride, Vitamins (Retinol (Vit A), Thiamine (Vit B1), Riboflavin (Vit B2), Niacin (Vit B3), Calcium Pantothenate (Vit B5), Pyridoxine (Vit B6), Folic Acid (Vit B9), Cobalamin (Vit B12), Vitamin C, Vitamin D, Vitamin E, Vitamin K), Minerals (Calcium, Copper, Iron, Manganese, Magnesium, Selenium, Zinc), Beet Pulp, Methionine, Dicalcium Phosphate, Rosemary, Natural Antioxidants.
Typical Analysis: Crude Protein: 27%, Crude Fat: 14%, Crude Fibre: 5%, Salt (NaCl): 2.6%
#ALMIGHTY RAW BRAND AVAILABLE FOR USA CUSTOMERS
---
We Also Recommend