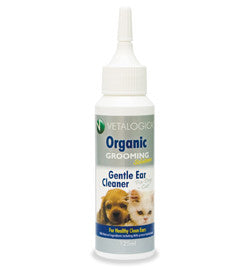 Gentle Ear Cleaner for Pets (125ml)
Gentle Ear Cleaner
Organic Gentle Ear Cleaner is uniquely scientifically formulated for dogs and cats to maintain healthy, clean ears. Vetalogica Organic Gentle Ear Cleaner is a non-oily lotion for routine cleaning and drying of dog's and cat's ears.
INGREDIENTS
Combination of organic ingredients which are scientifically formulated with Milk Protein Hydrolysates to gently remove accumulated wax and reduce unpleasant ear odours.
DIRECTIONS FOR USE
Apply 8 to 10 drops of Gentle Ear Cleaner in each ear (for large dogs increase dosage). Gently massage the base of the ears until wax is dissolved. Allow dog or cat to shake its head to dispel accumulation. Repeat as required. Once weekly application is suggested to maintain a healthy ear environment. Use before or after swimming to dry pet's ears.
CAUTION
Avoid contact with eyes, in case of eye contact flush eyes liberally with water. Consult a veterinarian if your dog or cat has a painful ear condition or discharge.